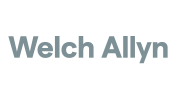 Welch Allyn H3+7 Day Holter Recorder
£1,153.00
Welch Allyn H3+7 Day Holter Recorder by Mortara
Full range available – our expert can discuss what is right for you!
The H3+ Holter Recorder by Mortara is a compact and mobile, continuous holter recorder focused on improving patient mobility and outcomes.
Weighing just 28 grams the H3+ Holter Recorder, displays in real time a full graphic ECG waveform during patient setup and records three channels of continuous ECG data for up to 7 days on battery power.
H3+ 7 Day Holter Recorder by Mortara Features & Benefits:
Weighs 28grams (1oz), easily fitting inside a pocket, enhancing patient mobility, outcomes and presentation of reported symptoms.
Event marker button allowing specific events to be marked against ECG data.
Compatible with additional Vision Express holter software allowing full analysis of recorded data.
Records three continuous channels of ECG data.
H3+ 7 Day Holter Recorder by Mortara includes:
IEC 5-wire patient cable, 38cm (3 –channel)
Carry case
Hookup kit
User manual and SFIC
Electrocardiograph Special Features:
Records ECG data for up to 7 days
Powered by AAA batteries
Easy to use
1 year warranty