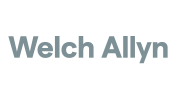 Welch Allyn CP150 ECG Machine with Interpretation
£2,684.00
The extremely easy to use CP150 ECG is perfect for any fast-paced practice, where speed, simplicity and accuracy are all a priority.
12 lead ECG screen preview
Large colour touch-screen display for easy entry of patient information
A4 thermal printer for hard copy readings
Easily share or import results into your electronic patient records using PDF output
On-screen guidance – helps identify lead connection problems
Instant power up – ECGs at a moment's notice
Easy to clean – reduce cross contamination
Advanced filters for optimal ECG trace quality ensure accurate readings
Adult and paediatric 'MEANS' ECG interpretation
8 hours battery operation and 4 hours to charge
Store up to 100 test results on the device or transfer to a USB memory stick
Supplied complete with patient cable, mains cable, pack of z-fold paper and 100 disposable electrodes
Optional CardioPerfect™ Connectivity Kit
CardioPerfect™ Connectivity Kit ECGs can be viewed, compared, shared and saved on your practice PC or laptop. Tests can then be easily transferred into Electronic Medical Records, such as EMIS, SystmOne and Vision.